For many purchasers, integrated developments provide seamless transport connectivity via direct access to the MRT and bus interchange, as well as a vast array of retail and F&B options within walking distance.

What is an integrated development, initially? Integrated developments are large-scale projects that combine multiple purposes, such as residential, commercial, and transportation hubs, in a single location. Mixed-developments lack direct integration to a transportation hub, which is the primary distinction between them.

The goal of an integrated development is to establish a self-contained community where residents can live, work, and play under one roof and enjoy a seamless commute via an integrated transport hub. An integrated development includes retail stores, recreational and community facilities, and a weatherproof connection to the transport hub, which may be an MRT station, a bus interchange, or both.
Integrated developments typically offer a variety of housing options to satisfy the needs of diverse buyer groups, including singles, young couples, and families. Whether located in the suburbs or the central region, these properties in Singapore are incredibly popular among homebuyers and tenants. They provide residents with greater convenience, access to a variety of services and amenities, and flourishing community spaces for increased social interaction, among other advantages.
There are numerous benefits to residing in an integrated development: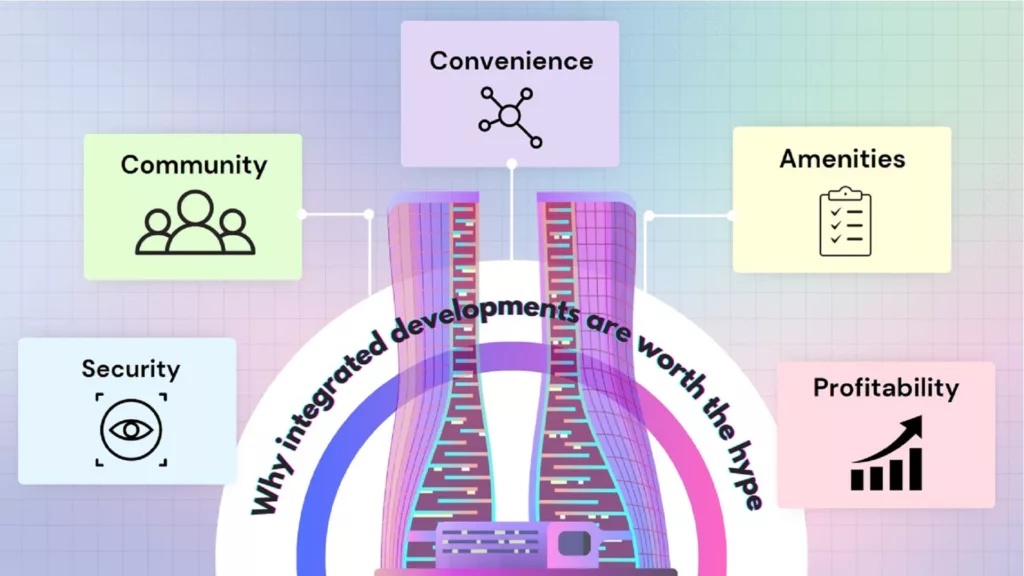 1. Convenience: The convenience that an integrated complex gives is one of the main benefits of living there. Direct access to the MRT station will shorten commute times and may even allow for a direct travel from home to work that is completely covered from the weather.
2. Community: Residents of integrated developments frequently have a strong feeling of community. Residents have more opportunity to interact and socialise with one another when there are more shared areas and utilities, which can increase a sense of belonging and boost community engagement.
3. Security Several integrated complexes have gated gates, security cameras, and onsite security officers as well as other security measures. Despite living over a busy mall, they give occupants a sense of protection and security that is greater.
4. Access to amenities: Integrated projects frequently have a variety of amenities available, including parks, playgrounds, swimming pools, gyms, F&B establishments, and retail stores. Residents enjoy a good quality of life in close proximity to these amenities, which makes juggling work and leisure activities simpler.
5. Integrated developments typically fetch higher premiums in terms of resale profit and rentals when evaluating the prospective financial outcomes. These homes' owners stand to gain significantly from price growth and yields on their investment. As a result, owners would have little to no issue finding a buyer or tenant. In addition, these properties tend to appeal to a bigger pool of tenants and potential buyers due to their desirable qualities.
Five integrated projects that were introduced and sold in the 2010s were compared to their growth in resale prices in 2022, and it was discovered that these projects' resale values rose by 16% to 26% from their new launch prices. For instance, Park Place Residence at PLQ, which debuted in 2017 with an average launch price of $1,806 per square foot, attained an average resale price of $2,151 per square foot in 2022, up 19% in just 5 years from the year of launch.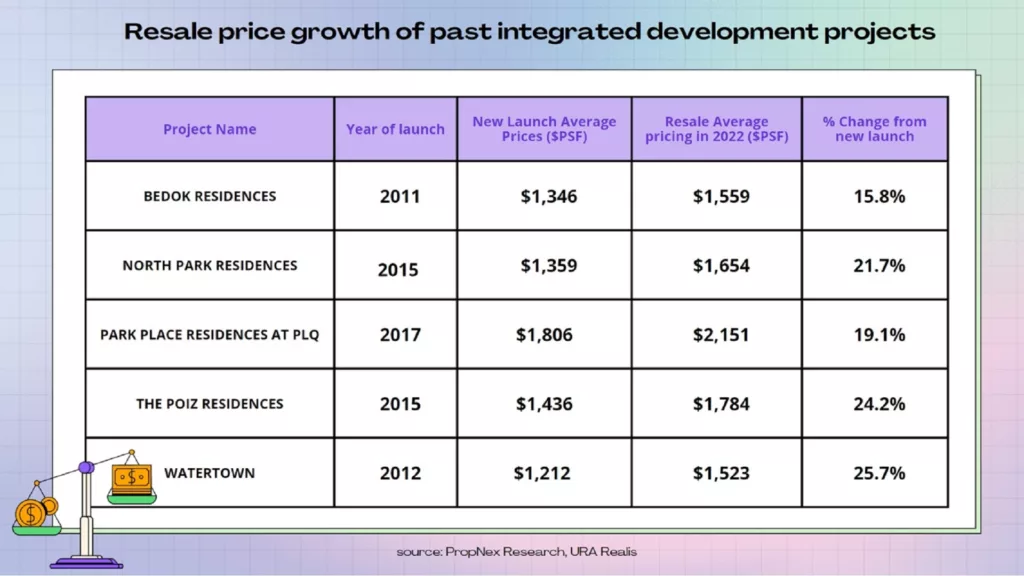 The same five integrated developments' resale premiums in 2022 were examined, and it was discovered that these projects sold for 15% to 56% more than their non-integrated counterparts in the same district. For example, Bedok Residences' average sales price in 2022 was $1,559 per square foot, which was more than 20% higher than the average resale price of other private condo projects in District 16.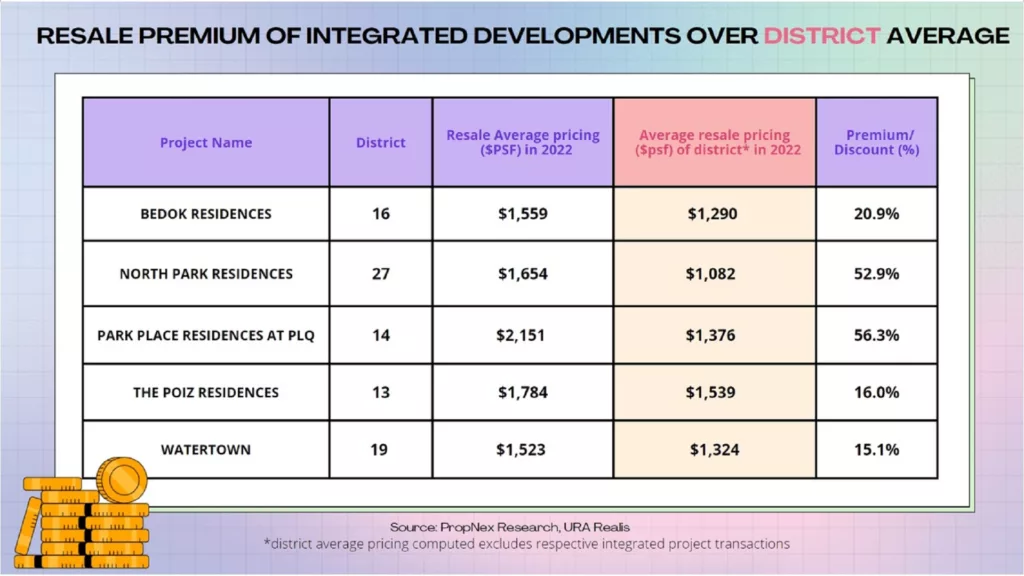 Rents for these integrated developments were determined to be 21% to 62% higher in 2022 than for other projects in the same neighbourhood. For instance, the average monthly rent at North Park Residences in 2022 was close to $5,000, which represented a premium of around 48% over the rents at comparable private condo complexes in District 27.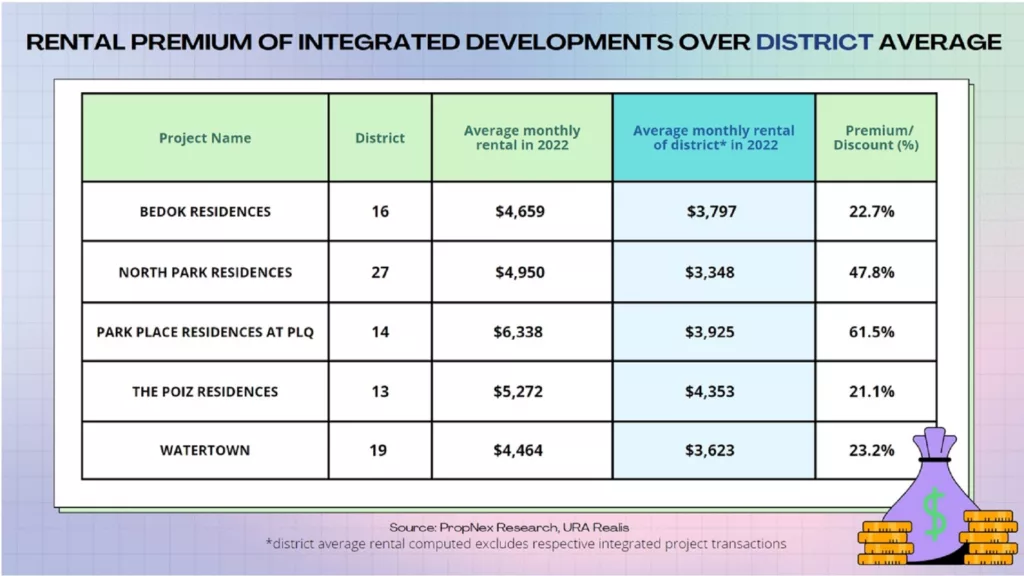 Given that integrated complexes are very desirable to both tenants and owner-occupiers alike due to their appealing qualities, convenience, connection, and feeling of community, it is not surprise that they should command a premium above other projects in their respective areas.
Due to the complexity of such projects, owners may need to be aware of several factors, such as the possibility of additional fees for the development's upkeep and maintenance. Second, because there is more commercial activity and shopper traffic, an integrated development may be a little noisy for people who want a more isolated and quiet living environment.
Nevertheless, living in an integrated complex has more advantages than disadvantages. Integrated developments that provide seamless connectivity and easy access to a variety of amenities are still in high demand by buyers in a fast-paced society like Singapore where convenience and accessibility are highly appreciated.
On the market right now are a few integrated developments such CanningHill Piers, Lentor Modern, Midtown Modern, Pasir Ris 8, and Piccadilly Grand. By the end of March 2023, all of these projects had exceeded 87% of their projected revenues. Sengkang Grand Residences and The Woodleigh Residences, two other integrated complexes, are completely sold out. The Reserve Residences, a new integrated development on Jalan Anak Bukit, is scheduled to open in May 2023 and will give homebuyers more choices.
Contact Kia (98577596) or Catherine (91688960) to find out more about buying opportunities at the highly coveted integrated developments today.