Project Details Developers Location Showflat Price Floor Plans Gallery Progress
Leedon Green Project Details | Review | Progress | Launch Price & More
Developers of this project manage to give us more details As you enter Margaret Ville's enormous marble doorway, enjoy in its modest yet polished charm. This 40-story structure soars over the heritage-rich Queenstown estate that inspired Margaret Ville. People consider reading the details of a project and that's why we've added the Leedon Green Project Details so you can have more information before you take any decision.
With Queenstown MRT only a seven-minute walk away, you can easily go to Orchard Road, Dempsey Hill, or the Central Business District. We've provided every information on this page related to Leedon Green Project Details so you can have the complete idea before investing or thinking about taking any decision. Read more on Official website here.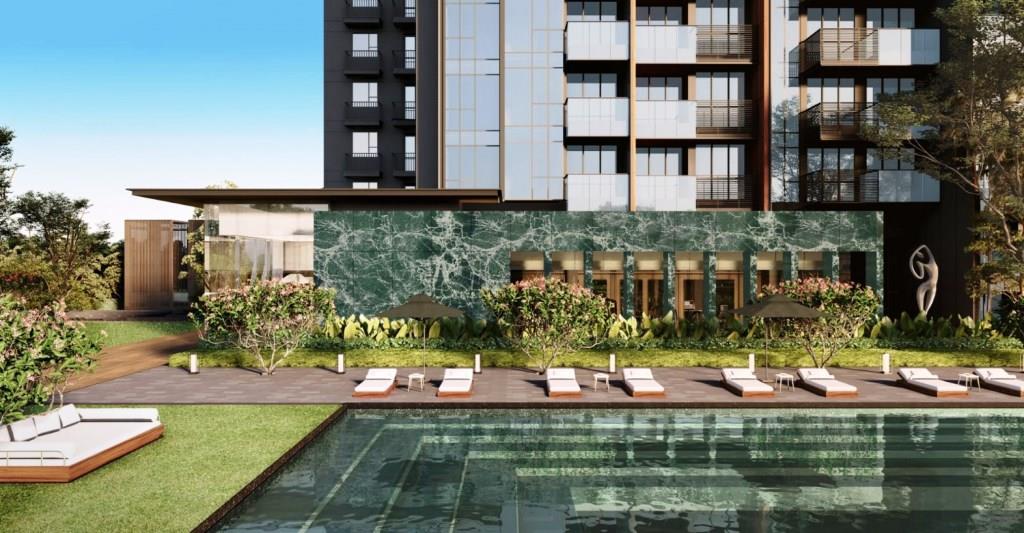 Look no further than the 1,404-unit Parc Esta, where the magnificence of its nine 18-story towers gives way to an exceptional living experience rivalled only by the greatest of hospitality.
Leedon Green Project Details in depth
| | |
| --- | --- |
| Leedon Green Project Details | Answer For Leedon Green 绿墩雅苑 |
| Location | Leedon Heights |
| District | 10 |
| Developer | Asia Radiant Pte Ltd (JV of MCL Land and Yandlord Land Group) |
| Developer's License No. | C1368 |
| No. of Blocks/Storey | 7 blocks, 12-storeys each |
| Site Area | Approx 316,711.32 sqft / 29,422.62 sq m |
| Building Blocks Site Coverage | Approximately 27% |
| Solicitor | TBA |
| Project Account No. | UOB for Project A/C No. 451 310 099 4 of Asia Radiant Pte. Ltd |
| Architect | DCA Architects Pte Ltd |
| M & E Consultant | TBA |
| Structural Consultant | TBA |
| Landscape Consultant | Ecoplan Asia Pte Ltd |
| Address | 26, 28, 30, 32, 34, 36, 38 Leedon Heights |
| Payment Scheme | Normal Progressive Payment Scheme |
| Mukim Lot No. | TBA |
| Site Use | Residential Flat Development with Basement Carparks |
| Tenure | Estate in Fee Simple (Freehold) |
| Total No. of Units | 638 units |
| No. of Car Park Lots | 510 residential carpark lots and 7 accessible carpark lots |
| Expected Date of Vacant Possesion | 31 March 2024 |
| Expected Date of Legal Completion | 31 March 2027 |
| Unit Mix | 1 Bedroom: 474 – 603 sqft (49 units) |
| 1 Study Room Leedon Green Project Details | 1+Study: 538 – 689 sqft (96 units) |
| 2 Bedrooms Leedon Green Project Details | 2 Bedroom + 1 Bath: 614 – 786 sqft (74 units) |
| 2 Bedrooms + Bath Leedon Green Project Details | 2 Bedroom + 2 Bath: 700 – 840 sqft (200 units) |
| | 2+Study: 818 – 926 sqft (46 units) |
| | 3 Bedroom: 958 – 990 sqft (33 units) |
| | 3+Utility: 1044 – 1063 sqft (45 units) |
| | 3+Utility+Private Lift: 1356 – 1604 sqft (34 units) |
| | 4+Utility+Private Lift: 1496 – 1744 sqft (56 units) |
| | Garden Villa (2-storey): 2400 – 2680 sqft (5 villas) |
Leedon Green Project Details
Leedon Green project details exudes its own distinct appeal, boasting opulent amenities such as a spa pavilion, tree top walk, jacuzzi, and a grand tree grill pavilion. Bespoke fittings and finishes, such as marble finishing, Antonio Lupi bathroom fixtures from Italy, and Hansgrohe (AXOR) sanitary wares from Germany, will also be included.
Questions & Answers FAQ's Leedon Green Project Details
What Is Leedon Green Launch Date?
Expected CSC: 31 March 2027 As per the project details and official statement it will be launched in 2023 but they have right to change launch details, or any other information as per their rules. 
Who Is Leedon Green Main Contractor?
The Midas touch of Hongkong Land in elevating luxury living to unforgettable experiences will be extended to the new Leedon Green condominium in Singapore. MCL Land will renovate the previous Tulip Garden condominium into a timeless, luxury living area for discerning home purchasers in collaboration with Yanlord Land.
Any Expected Date For Leedon On Green Launch Date?
It should be in Expected TOP: 31 March 2024 but company will announce asap whenever they are ready to inform people. 
What's The Leedon Green Progress Report?
As per the official website there is no report on this but we'll update this section as soon as we get the more information
Who Is Main Developer Behind Leedon Green Project?
A much-lauded property developer that enjoys a stellar reputation across 15 cities in China, Yanlord Land Group Limited is known for creating beautiful, quality homes that do not compromise on either luxury or functionality. 
Is Leedon Green A Good Buy?
If you ask us then Leedon Green is an great investment and also best time to buy as they are making fast progress. Leedon Green is situated in prime District 10, near the central precinct's Good Class Bungalow cluster, Leedon Heights, and boasts seamless connectivity islandwide. The 638-unit development is expected to be completed in 2023. These details are enough to make decision for Leedon Green Question like Should We Buy Leedon Green Project Unit?
What Is The Leedon Green Launch Price?
Leedon Green Launch price could be S$ 2,643 – S$ 2,814.21/sqft but this is only a guess from the online market so price could be different. Leedon on Green Launch Price are different and we can only guess when something is coming so we need to wait until the update from the company. Don't be late to book an appointment for Leedon on Green. 
Leedon Green Architect?
DCA Architects Pte Ltd Singapore are the architect for the leedon green project
What Is Leedon Green Propertyguru?
PropertyGuru website is providing excellent information regarding the all projects and also every Singapore Real Estate agent can be listed there so its easy to know about specific project. But KiaCatherine are focusing on more projects related to singapore, one by one in depth details. 
Any Leedon Green Project Details Review?
This prestigious 3ha freehold estate will feature a mix of one- to four-bedroom types, as well as only five grand, double-storey Garden Villas. Selected three- and four-bedroom owners can also relish in the luxury of having a private lift.
Latest Updated Leedon Green Transactions?
1 room 124 S$1,208,000 – S$1,943,000 538 – 753 sqft 2 room 198 S$1,400,000 – S$2,876,000 614 – 958 sqft 3 room 144 S$1,975,000 – S$4,600,000 1356 – 1496 sqft 4 room 12 S$3,813,900 – S$6,543,000 1604 – 2680 sqft
Why Kia & Catherine For Leedon Green Project Details?
We'll already publish a page on our website called (Who Are We) where you can read more about us and also the short introduction as well. Before you read about us check This Page for our verified Testimonial Reviews from real people whom we have helped with professional courtesy. Kia and Catherine have more than a decade of real estate expertise between them. Built on the miracles of giving and value-adding, their practice takes a macro, long-term approach to optimize their clients' wealth in the long run!
Kia and Catherine recognize that everyone has unique circumstances and ambitions, and they strive to become acquainted with them. First, this information is collected after a few meetings, as well as an assessment of their financial condition. As a result, a practical, safe, and successful plan is curated. Get in touch with the duo today for insight on any kind of real estate query, be it the buying, selling, or renting of houses. Otherwise, a free, non-obligatory consultation can also be on the cards. You can check our other pages like Who Have We Helped? What's Your Plan etc.
Let's have more conversations regarding the project on call or whatever where you like. If you need the direct developer price and updated information give us a Call/WhatsApp using this numbe +65 9857 7596 or fill out the form below.